Welcome to The Library Challenge 2023! This year is all about Music. Celebrate all kinds of music, and all kinds of reads at Minchinhampton library this summer.
From: 15th July – 16th Sept 2023
The challenge is free to take part and suitable for children aged 3-12 years. There are lots of different tasks you can complete and get free rewards as you go!
How it works
Visit the library to sign up for the challenge. You'll receive a journal which includes a total of 12 tasks inside. Activities to complete tasks will be available from inside the library or take a look at our examples online and on the bookmarks that you will receive with your journal. Show completed tasks to the library team to get them stamped off and receive your free rewards.
Rewards include stickers, bookmarks, badges, an eco medal, certificate, giveaways, and more!
You can visit the library as many times as you like and receive special rewards at each level.
Make sure you bring your journal with you on each library visit to get it stamped to achieve the Bronze, Silver and Gold levels.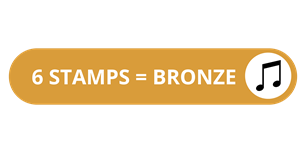 The Library Challenge runs until Saturday 16th September 2023, so make sure you get everything stamped by then.
Keep a look out for competitions, events, and giveaways throughout the summer. These include Lego Creativity and Craft Sessions.
Drop in to the library to join in the fun!